Ariston Park Restaurant
About Ariston Park Restaurant
Welcome to Ariston Park Restaurant in Tashkent. Here you will find information, view photos and read tourist reviews of Ariston Park Restaurant in Tashkent.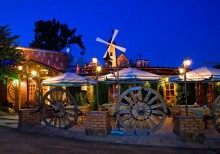 In this restaurant you will find more interesting things. Pig-irons hang down above a bar, curtains of purple color (royal clothes) with gold brushes… Your staying here will fan heat a fireplace. A slice of the east in the medieval Europe is here to you. All furniture of restaurant of manual work is made of the present tree.
At restaurant the greater years terrace from which it is possible to take pleasure in park in the summer. In an atmosphere of a sunlight and excellent service. The menu of Ariston Park Restaurant in Tashkent includes dishes of European cuisine, the assortment here is rich enough, and each visitor can find in it for Itftelf especially attractive.
Ariston Park Restaurant Location
Ariston Park Restaurant Facilities
Ariston Park Restaurant Address
Street Address:
21, H. Aripov street
City :
Tashkent
Country :
Uzbekistan
Telephone :
+998 71 237 2614, 237 4966.
Web:
www.aristonpark.uz
Email:
manager(at)aristonpark.uz