Angels Food
Welcome to Angels Food in Tashkent. Here you will find information, view photos and read tourist reviews of Angels Food in Tashkent.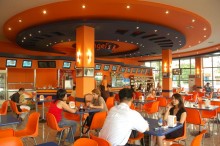 The famous and the first fast food cafe in Tashkent. «Angel's Food» is the best known among fans of cafe for tasty food and quick service. "Angel's Food" is more than just a fast-food cafe. It is a nicely-balanced mix of bright style, unique approach, quality service, dynamic rhythm, tasty dishes and comfort!  All the elements in the cafe are properly designed and allocated. Interior premise is adequately backed up by open area seats. What makes "Angel's food" different from normal fast-food cafe is its wide selection of menu comprised by various main courses and salads, pastries and cakes. High quality confectionery and bakery is made by the cafe's cooks. All the dishes are made by fresh products only.
Cafe offers refined kind of coffee drinks, various shakes, juices.
Angels Food Location
Angels Food Facilities
Angels Food Address