Affresco Italian Restaurant
About Affresco Italian Restaurant
Welcome to Affresco Italian Restaurant in Tashkent. Here you will find information, view photos and read tourist reviews of Affresco Italian Restaurant in Tashkent.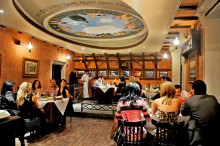 True Sicilian restaurant in Tashkent, member of Caravan Group of restaurants in Tashkent. Each dish served at the Affresco Italian Restaurant are  prepared only from environmentally friendly products, some of which are delivered from Italy. Before the meal, take a little tour of the restaurant that has five halls, each of which has its own mood, its own peculiarities. The atmosphere is really quiet and comfortable and you could stay there for as long as you wish. Interior is designed with copies of frescoes of great artists of the early Renaissance - BenozzoGotsolli, Andrea del Castagno and Andrea Mantegna.
The staff can speak English really well and the menu is written in English so you don't have problems with ordering the right dish.
Affresco Italian Restaurant Location
Affresco Italian Restaurant Facilities
Affresco Italian Restaurant Address
Street Address:
14, Babur Street, Tashkent
City :
Tashkent
Country :
Uzbekistan
Telephone :
(998 71) 129 9090
Web:
www.caravangroup.uz
Email:
info@caravangroup.uz