National Academic Drama Theatre
About National Academic Drama Theatre
Welcome to National Academic Drama Theatre in Tashkent. Here you will find information, view photos and read tourist reviews of National Academic Drama Theatre in Tashkent.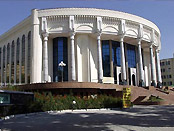 Being one of the first theatres in Central Asia, it is now well known with its grandiose spectacles.
The theater performances are held in the Uzbek language. Uzbek National Academic Drama Theatre shows performances of different genres – comedy, drama, tragedy, classical works and plays by contemporary authors. Tickets can be purchased in advance or directly before the performances.
The theater began its history in 1914 when Abdullah Avloniy created troupe called "Turon". Later this company became a professional drama theater, received the title of Academic Theater in 1937 by a decision of the government.
National Academic Drama Theatre Location
National Academic Drama Theatre Facilities
National Academic Drama Theatre Address
Street Address:
34, Navoi Avenue
City :
Tashkent
Country :
Uzbekistan
Telephone :
+ 998 71 2441751
Web:
www.teatr.uz