Kok Gumbaz Mosque
Welcome to Kok Gumbaz Mosque in Sakhrisabz. Here you will find information, view photos and read tourist reviews of Kok Gumbaz Mosque in Sakhrisabz.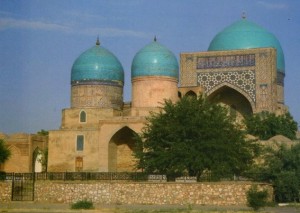 After walking ten minutes south from Amir Temur Museum, the Kok Gumbaz Mosque (1435-6) is obvious from the blue dome after which it is named. Tamerlane's grandson Ulug Beg built it as Shakhrisabz's
Jummi Mosque and centrepiece of the Dorut Tilovat Madrassah, Seat of Respect and Consideration. The impetus of his 600th anniversary in 1994 brought teams of restorers to refresh the mosaic tiling on the portal and 10-metre arch, though critics consider he matched the monumentality but not the elegance of his grandfather's works. The madrassah's porticos are also reappearing, once more to flank two surviving mausoleums from the Barlas cemetery. The earlier was constructed by Tamerlane in 1373-4 for Sheikh Shamseddin Kulyal, a Sufic leader and spiritual advisor of Tamerlane's father, Taraghay. Tradition says both men lie beneath the tombstones, shorn of tiling but retaining some onyx carving. Under the tall blue dome of the chamber and portal Ulug Beg built next door, in 1437-38, are four tombstones of his kinsmen. The Kok Tash (blue stone) on the left bears a hollow worn by parents pouring water for sick children to drink—scientists confirm the stone contains medicinal salts. Other tombstones belong to Termezi sayуids (those claiming descent from Mohammed's grandson, Husain); their presence explains its local name Gumbazi-Sayyidan, Dome of the Sayyids. Renovation brightened the richly painted designs on the plaster interior, now falling prey to a rising water table.
Kok Gumbaz Mosque Location
Kok Gumbaz Mosque Facilities
Opening Hours:
Entrance Fee:
free
Payment Accepted:
Cash
Kok Gumbaz Mosque Address
Street Address:
Kok Gumbaz
City :
Shahrisabz
Country :
Uzbekistan