Ulughbek Observatory
About Ulughbek Observatory
Welcome to Ulughbek Observatory in Samarkand. Here you will find information, view photos and read tourist reviews of Ulughbek Observatory in Samarkand.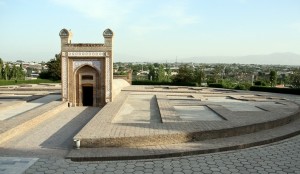 This famous Ulughbek observatory lies a taxi ride from the center of Samarkand. This fantastic monument which has survived six hundred years of neglect and now is threatened with preservation. Ulughbek was Timur's grandson, a moderate man of letters.  From Samarqand he ruled the northern marches of the Timurid Empire and presided over a luminary and cultured court.  Education and culture thrived in Ulughbek's Samarkand, and many famous scholars of the time were invited to work at the Academy of Science established by Ulughbek. Singers, dancers, poets, and musicians also made the city a cultural capital of the region. The forty years (1409-1449) during which Ulughbek, Timur's grandson, ruled, gave us a number of monuments the chief among them being the Ulughbek Madrassah of Bukhara with the inscription:"Striving for knowledge is the duty of every male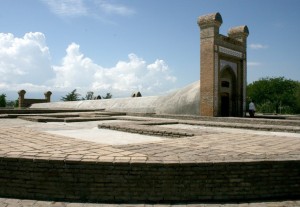 and female Muslim," and the Ulughbek Madrassah of Samarkand where, besides lectures on theological nd fresh tables of the planets and did his own amazingly accurate calculations of the length of the year. Ulughbek's measurements of the year's length in seconds were more precise than anyone else's prior to the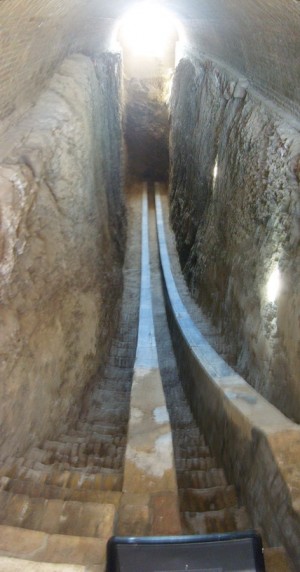 invention of the computer. Galileo was not the first astronomer to suffer from conflict with conservative religious authorities. Unfortunately, Ulughbek was also the victim of a cultural and religious backlash. The ruling class considered him weak and lacking in diplomacy. Ultimately he was accused and not without foundation, of neglecting his borders, and causing unnecessary offence to his nobles. Ulughbek met his unfortunate end in 1449 at the hand of a mercenary hired by his son and the empire followed soon after. And the Samarkand observatory was reduced to ruins by the beginning of the sixteenth century, although his astronomical work was saved and published to posthumous acclaim in Western Europe. For as Ulughbek said:"Religion disperses like a fog, kingdoms perish, but the works of scholars remain for an eternity".
Ulughbek Observatory Location
Ulughbek Observatory Facilities
Opening Hours:
Entrance Fee:
$2
Payment Accepted:
Cash
Ulughbek Observatory Address