Registan Square
Welcome to Registan Square in Samarkand. Here you will find information, view photos and read tourist reviews of Registan Square in Samarkand.
The Samarkand of 1405 was the pride of the Muslim world. Its major monuments remain, even today striking testament to the skills of the imported artisans from throughout the Muslim world and to the drive of Temur and his successors to construct edifices of symbolic power and beauty. Within its five-mile-long walls, the core of the city was the Registan, a huge public square surrounded on three sides by religious complexes of mosques, khans, and madrasas. Built at different times by members of the Timurid dynasty between 1370 and 1500, these beautiful buildings 'held up the sky' with their huge portals, twin minarets, thousands of blue tiles, and carved marble. The Arab proverb is emblazoned on one building , 'If you want to understand us, examine our monuments'. In 1888 'the noblest public square in the world … no European spectacle in deed can adequately be compared to it'. Registan, in local language means 'sandy place'.  It is a plaza, bound on three sides with two large madrassah and a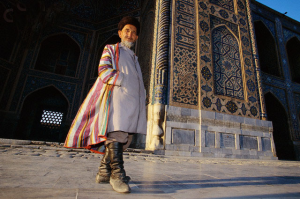 mosque with a noticeably crooked minaret. The madrassah are large square buildings bordered by rows of student roomswith arches opening into central courtyard. Classic blue domes crown the buildings, and mosaic covers every available inch of wall space. Sat for hours before the Registan, with its three Registanluminous madrassah, in the morning light the it seemed to me one of the most alluring places created by humankind. The first madrassah on the left,
its imposing arched entranceway decorated with star motifs, was named after Ulugbek, Temur's grandson and astronomer. He believed in teaching more than theology in the 
madrassah, and the star motifs are a statement of his determination -  amidst opposition that the science and astronomy be taught here. In the rooms lining in the madrassah now stand souvenir shops stacked with rugs, jewelry and other tourist  attractions. The high facades of the madrassah on the right are a mishmash of high Islam, Sufi symbolism, astrology, and Persia's Zoroastrian hangover. Despite the ban on human or animal likenesses, lions striped like tigers prowl the Shir Dar's high arch, with Mongol faced sunbursts peeping over their backs. Dullwitted deer await the big cats jaws. The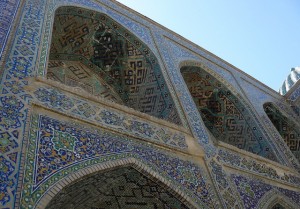 standard geometric patterns and flowers are there, too, but elevated to a level of uncommon beauty. The calligraphy above the madrasah's inner arch is a dignified signpost along a divine path. With its minarets and turquoise dome, the Shir Dar seems a fairytale castle of faith, as do its two brethren bordering the square. But words don't do. The Registan must be seen. And felt.
Registan Square Location
Registan Square Facilities
Opening Hours:
Entrance Fee:
$2
Payment Accepted:
Cash
Registan Square Address