Imam al-Bukhari Mausoleum
About Imam al-Bukhari Mausoleum
Welcome to Imam al-Bukhari Mausoleum in Samarkand. Here you will find information, view photos and read tourist reviews of Imam al-Bukhari Mausoleum in Samarkand.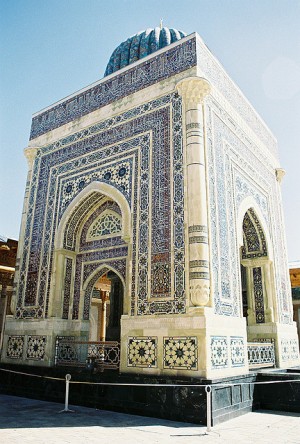 The mausoleum of Imam al-Bukhari in Samarkand is a very impressive sight. It is is a masterpiece of modern Uzbek   architecture based on traditional oriental style. When you enter through a huge gate, you will immediately step into the courtyard laden with lavish lawns, tall trees and colourful flowers and on the left is the ablution area and Masjid.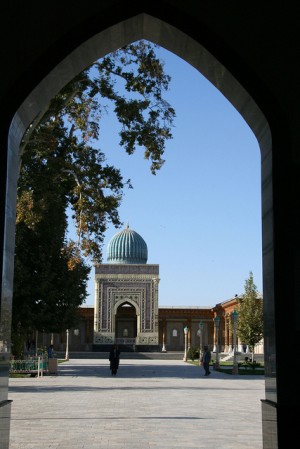 There is also a small shop selling some souvenirs and local crafts. The  mausoleum of  Imam  al-Bukhari lies straight ahead. Imam al-Bukhari Mausoleum LocationInside the mausoleum of Imam al-Bukhari there is a marble tomb, but the real burial site of Imam al-Bukhari is actually below that tomb.  The mausoleum is topped by a small dome that is raised upon marble columns shining in the effective light. The rectangular tomb is cased in polished marble of many colours, and before it is the gravestone, the lines of Arabic written upon it briefly summarizing the Imam's life.
Imam ai-Bukhari Location
Imam al-Bukhari Mausoleum Facilities
Opening Hours:
Entrance Fee:
free
Imam al-Bukhari Mausoleum Address