Central Park and Monuments of Namangan
About Central Park and Monuments of Namangan
Welcome to Central Park and Monuments of Namangan. Here you will find information, view photos and read tourist reviews of Central Park and Monuments of Namangan.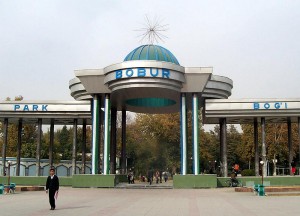 In common tsarist style, the streets of the Russian town lead to the central park, founded in 1884 as the governor's garden. Later renamed Pushkin Park and installed with requisite Lenin statue, it now enjoys Babur's sponsorship and the uninterrupted patronage оf Uzbek patriarchs tea-drinking and chess-playing in the shady calm of heavy chinor trees. The Square to the northwest has dropped Lenin for Peace and a carved display of provincial monuments. Nearby at 25 ex-October Street, the Namangan Natural History Museum houses many archaeological discoveries. To the east is the pedestrian avenue Uychi, leading to the heart of the Uzbek town, the crowded bazaar. Beside stalls of meat, fruit and vegetables, craftsmen offer brightly painted wooden cradles, complete with convenience hole, while women sell embroidered skullcaps and woollen shawls.
Just east of the bazaar is the Mullah Kyrgyz madrassah, built in 1910 by a local cotton magnate. Having served time as a Soviet literature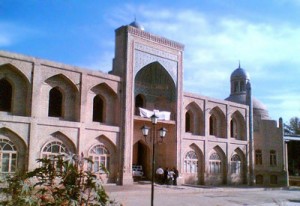 museum, it reopened in 1992 after Namangan residents donated funds for restoration of the fagade, domed corners, tiled portal and minarets. In recent years the madrassah was closed again, and revived as a museum. Five minutes south along a lane famous for metal workshops is the Khodjamni Kabri Mausoleum. Only men may request a look at this 18th-century imitation of earlier portal and dome tombs. The ornate carved terracotta fagade is a striking example of Ferghana decoration.
Central Park and Monuments of Namangan Location
Central Park and Monuments of Namangan Facilities
Central Park and Monuments of Namangan Address