Sights
Best places to visit in Khiva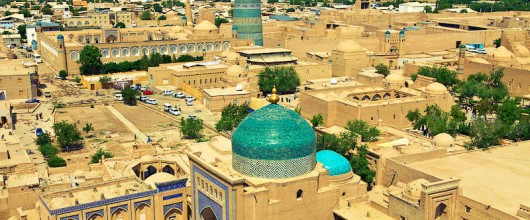 Your guide to the sightseeing in Khiva. Mostly visited historical sites, best sightseeing places in Khiva. Find out interesting facts, brief information, view photos and read visitors review about Khiva's top visitor attractions. 
Historic Centre of Khiva has been inscribed upon the World Heritage List of the Convention concerning the Protection of the World Cultural and Natural Heritage. Inscription on this List confirms the exceptional universal value of historic sights in Khiva which deserves protection for the benefit of all humanity.
Khiva, an excuisite city in the middle of the dessert, is indeed unchanged for many centuries. Located along the commercial Silk Road, the city is home to the most skilled artisans, 15th century medrassahs, teahouses, and spice markets. Walking along its main streets, back streets, you'll find something interesting to catch your eye. There are so many mosques, mausoleums, minarets and madrassahs crammed in the historic town of Khiva, also known as Ichan Kala (the inner fortress).
Mostly visited sites in Khiva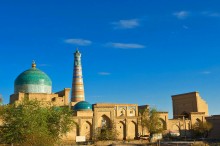 Pakhlavan Mahmoud Mausoleum
A beautiful emerald green dome topped with a large brass finial marks the Mausoleum of Pakhlavan Mahmoud - the holiest site in Khiva. It is the shrine of Khiva's patron saint, Pakhlavan Mahmud, who was a fur hat maker and a famous poet of Khiva, and the dynastic burial complex of the Khiva Khans.