Restaurants
The best food and drink in Khiva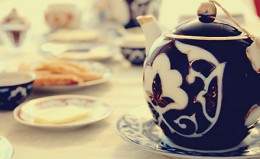 Your guide to best restaurants and eating out experience in Khiva. Be it an Uzbek cuisine, european dishes or themed restaurants, find the best restaurants in Khiva.
Where to dine in Khiva? From cheap restaurants in Khiva to luxury dining we have listed the best restaurants, tea houses, cafes that serve traditional Uzbek dishes. In the old town Itchan Kala there are three restaurants which look forward to your visit.  Moreover, you can order a meal for lunch or dinner at the restaurants of hotels in Khiva.
Best places to dine out in Khiva
Bir Gumbaz Tea House
Bir Gumbaz tea house in Khiva is located inside the former single-doomed Pahlivan Mahmoud mosque. Bir Gumbaz is known for tasty soups and its artist's view of Kalta Minor. The suzani-decorated walls and friendly welcome from the staff creates a pleasent the atmosphere in the Bir Gumbaz tea house.
It is an Uzbek custom to dine at home among the family members. Thus locals are used to visit restaurants in Khiva occasionally and only to celebrate special events. However, dining at restaurants in Khiva are getting more and more than usual. This is explained by the opening of variety restaurants in Khiva that serve different menus at convenient prices.
You can find in Khiva restaurants of every kind from top quality art-restaurants located to middle-size restaurants for everyday dining, from national art restaurants to local kebab houses.