Minaret of Palvan-Kari
About Minaret of Palvan-Kari
Welcome to Minaret of Palvan-Kari in Khiva. Here you will find information, view photos and read tourist reviews of Minaret of Palvan-Kari in Khiva.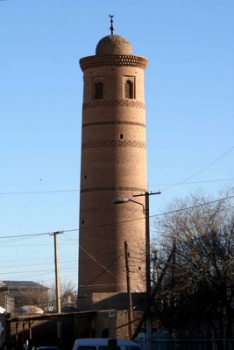 Palvan Kari is rare type straight, cylindrical minaret. It was built in the late XIX, early XX centuries. The decoration of the minaret is unusual-modesty in the finishing is not characteristic for oriental architecture. Its decoration is brace masonry brick belt , ornamented green glazed tiles in the form of "ribbons".
Palvan Kari minaret is located in the eastern part of Dishan-Kala close to the Sayyid-biy, including a mosque, minaret and two-storey madrassa. The construction is very different from the traditional type of Khiva minarets, significantly narrowing to the top.
Minaret of Palvan-Kari Location
Minaret of Palvan-Kari Facilities
Minaret of Palvan-Kari Address
City :
Khiva
Country :
Uzbekistan