Madrassah of Muhammad Amin Khan
About Madrassah of Muhammad Amin Khan
Welcome to Madrassah of Muhammad Amin Khan in Khiva. Here you will find information, view photos and read tourist reviews of Madrassah of Muhammad Amin Khan in Khiva.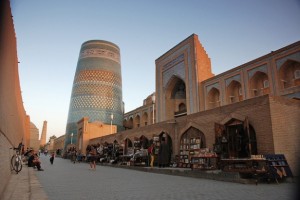 The biggest medieval madrassah in Khiva, the Madrassah of Muhammad Amin-khan (1845-1855) is located opposite to Kunya-Ark at the gates of Ata-darvaza. Its area is 78×60 m. The Madrassah has 125 hudjras and could receive up to 260 pupils. The portal is crowned with five domes and flanked by corner towers.
An inscription reads: "This perfect building will eternally stand, enlightening our descendants". Hudjras on the second floor have loggias. They give a distinctive look to the madrassah – open arch niches along the external perimeter of the building. The rich decor includes brick mosaics, majolica, ornamentally carved doors and ganch lattices (pandjara) of windows.
Madrassah of Muhammad Amin Khan Location
Madrassah of Muhammad Amin Khan Facilities
Opening Hours:
Entrance Fee:
free
Madrassah of Muhammad Amin Khan Address
City :
Khiva
Country :
Uzbekistan