Khiva Silk Carpet Workshop
About Khiva Silk Carpet Workshop
Welcome to Khiva Silk Carpet Workshop in Khiva. Here you will find information, view photos and read tourist reviews of Khiva Silk Carpet Workshop in Khiva.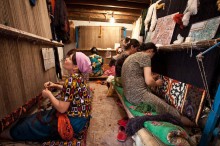 The workshop was opened as a joint project between Operation Mercy, an international relief and development organisation, and UNESCO. The aim  of the Khiva Silk Carpet Workshop is to revive the art of natural dyeing and to re-create fifteenth century Timurid carpet designs in silk.  Only natural dyes from plants, minerals and insects are used to dye the silk threads.
No trip to Khiva is complete without a visit to Khiva Silk Carpet Workshop.
The inspiration for the carpets made in the Khiva Silk Carpet Workshop came from designs which had lain dormant for half a millennium. The designers at the Khiva Silk Carpet Workshop have put a lot of effort into ensuring that designs are creative and original!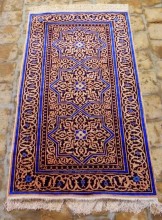 Khiva Silk Carpet Workshop has three main collections of carpets and suzannis: Timurid Collection, which are carpets and suzannis based on designs taken from fifteens century miniatures, Khiva Majolica Collection based on the dazzling turquoise, white and deep blue tiles that adorn the madrassahs, mausoleums and palaces of Khiva, and finally Khiva Doors and Pillars Collection, based on the intricate carved wooden doors and pillars in Khiva.
A second workshop opened in cooperation with the British Council produces suzani, a Central Asian form of embroidery.  Those who couldn't afford a carpet may still like a smaller wall-hanging, or perhaps a handbag.
Khiva Silk Carpet Workshop is located in the former madrasah courtyard in the heart of the walled city- Ichan Kala. From the Ota Darvaza (main tourist gate) follow the main street. Pass the Kalta Minor and the music madrassah and then turn right. 30 metres on your left is the carpet workshop. To get to the suzanni centre, go through the archway at the end of the carpet workshop street and turn right, following the signs.
Khiva Silk Carpet Workshop Location
Khiva Silk Carpet Workshop Facilities
Opening Hours:
Entrance Fee:
free
Payment Accepted:
Cash
Khiva Silk Carpet Workshop Address
City :
Khiva
Country :
Uzbekistan
Telephone :
(+998 62) 375 7264 / 375 6883