Tim-Abdullakhan Bazaar
About Tim-Abdullakhan Bazaar
Welcome to Tim-Abdullakhan Bazaar in Bukhara. Here you will find information, view photos and read tourist reviews of Tim-Abdullakhan Bazaar in Bukhara.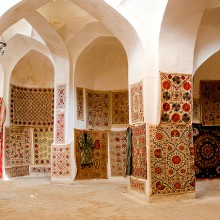 Tim Abdullah Khan is a covered bazaar built in 1577; among Bukhara's other primary commercial centers. Once known as the Tim-i Kalan, or Great Market, it was a center of Central Asia's famed silk trade through the centuries.
Not far away from the Poi Kalon Ensemble, between Taqi-Zargaron and Taqi-Telpakfurushon Bazaars stands one of the most impressive buildings of Bukhara – Tim Abdullakhan market. The road between these two Bazaars was once a crowded street encumbered with caravanserais and rows of stalls. The Tim Abdullakhan was the dominating structure at that street in the epoch of Abdullah-khan II (1561-1598), the most successful khan of the Shaibanid dynasty.
Tim Abdullakhan is a covered market that was specialized in selling silk fabrics. The bazaar was built in a square form with blank walls without any decoration. A sophisticated building-up of countless cupolas, clustered around the calotte of the main dome attracts an eye. Tim Abdullakhan comprises a central domed space and bypass galleries with lots of niches for placing and exhibition of goods that were once themselves the best and shining colors of interior decoration.
Today, it is the best bazaar in the city for buying handmade carpets and rugs. You can also watch silk-carpet weavers in action here.

Tim-Abdullakhan Bazaar Location
Tim-Abdullakhan Bazaar Facilities
Tim-Abdullakhan Bazaar Address
Street Address:
Khakikat Street
City :
Bukhara
Country :
Uzbekistan