Taqi-Zargaron Market
About Taqi-Zargaron Market
Welcome to Taqi-Zargaron Market in Bukhara. Here you will find information, view photos and read tourist reviews of Taqi-Zargaron Market in Bukhara.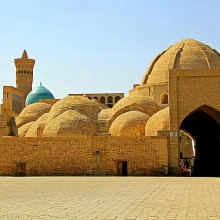 As there are several trading domes in Bukhara, which are still inhabited by the traders like in the ancient days, and every sight does have small souvenir shops, your choice is unlimited. One of these, the largest and best preserved trade dome in Bukhara is the 16th century Tak-i Zargaron, a multiple dome-covered bazaar located at the intersection of the main roadis in Bukhara's old town (Shahristan). Its name translates as "Dome of the Jewelers".
The intersections of main streets of medieval Bukhara served as trading centers that caused a construction of famous domed market. Passing by Poi Kalon Ensemble eastwardly and southwardly you will reach the remaining domed bazaars of Bukhara. Just next to the Miri Arab madrassah, on the way to the Ulughbek Madrassah, you will see one of these structures, called Chorsu or Taqi-Zargaron (jewelers' market).
The Taqi-Zargaron, which dates from 16th century, is the largest of all existing ancient shopping malls in Bukhara. Taqi-Zargaron once accommodated 36 shops and ateliers with all inventory. Moreover, the bazaar was home to merchants of candles and aroma soaps that also were as expensive as jewelries. The ring road that circles the bazaar was once occupied with the shops of carpets and bag sellers.
Today, there are also many souvenir shops inside the domed Taqi-Zargaron bazaar in Bukhara. If you are interested in buying some beautiful and unique jewelry to take home, you should take a trip here.

Taqi-Zargaron Market Location
Taqi-Zargaron Market Facilities
Taqi-Zargaron Market Address
Street Address:
Khodja Nurobod Street
City :
Bukhara
Country :
Uzbekistan