Taqi-Telpakfurushon Market
About Taqi-Telpakfurushon Market
Welcome to Taqi-Telpakfurushon Market in Bukhara. Here you will find information, view photos and read tourist reviews of Taqi-Telpakfurushon Market in Bukhara.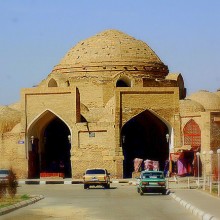 In ancient times in Bukhara, domed bazaar buildings were erected over all important crossroads of this city. Some of these domed bazaars (locally called taqi) are still in use today. The doors of the bazaar were build so wide that caravans of several camels and horse carriages could easily pass. The Taqi-Telpakfurushon is one of the four remaining bazaars of the Bukhara.
Taqi-Telpakfurushon (Market of Hatmakers), as other domed bazaars in Bukhara, is located on an important crossroads of the city. But this bazaar differs from others: it was erected over the crosshairs of five streets leading to different parts of the city.
All the side passages of Taqi-Telpakfurushon were open and stalls of the merchants were arranged around the passage. Under the arches were stalls of booksellers (Bozori-Kitob), on behalf of which the whole dome is often called Taqi-Kitob. The other half of the dome was occupied by the ranks of traders of clothing ornaments, especially belts and shops with hats (Bozori-Telpak, or as they are often called, Taqi-Telpak).
Taqi-Telpakfurushon was a shopping mall mainly of fur and other kind of head-dresses such as skullcaps embroidered with gold-thread and beads, fur-hats, and skillfully rolled turbans.This dome still sells traditional head wear such as fur hats and turbans for people of all ages and genders, as it has done for centuries. There is also a smithy at the entrance. Today there are mainly carpets and other typical souvenirs sold under the dome.
Taqi-Telpakfurushon Market Location
Taqi-Telpakfurushon Market Facilities
Taqi-Telpakfurushon Market Address
City :
Bukhara
Country :
Uzbekistan