Taqi-Sarrafon Market
About Taqi-Sarrafon Market
Welcome to Taqi-Sarrafon Market in Bukhara. Here you will find information, view photos and read tourist reviews of Taqi-Sarrafon Market in Bukhara.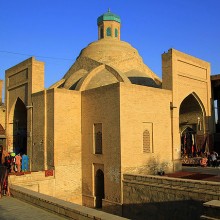 Tradition of building covered market structures (charsu) on the crossroad of big commercial highways in Central Asia dates back to medieval times. This tradition was flourished under the Sheybanid rulers who built many covered shopping centers on the crossroads of Bukhara. There are only three domed bazaars survived, one of them is Taqi-Sarrafon (Dome of moneychangers).
The Taqi-Sarrafon is one of Bukhara's four remained domed bazaars of medieval times. This trading dome was used mostly for money exchange during the era of the Silk Road. Traders form India frequently exchanged money inside this covered bazaar. Today, the site is no longer a money exchange center, but it now has lots of great shops where you can pick up interesting souvenirs. Taqi-Sarrafon is erected over the crossing of two perpendicular streets. It is smaller in size than other covered bazaars remained in Bukhara and radically different in its style.Taqi-Sarrafon was built at the end of the 16-th century at the place of historic market place beside the ancient irrigation ditch – Shahrud. Now the water of Shahrud flows on the bottom of concrete channel. Beside the Shahrud ditch, there was moneychangers' bazaar from time of ancient Bukhara. When Taqi-Sarrafon was built by Shaybanid rulers, they made it the center of currency exchange in Bukhara. Closest to the Lyab-i Hauz, this was the hub around which the finance of the bazaars revolved. The usury is forbidden in Islam, thus here operated non-muslim money-changers and lenders fromIndia and Armenia.
Taqi-Sarrafon Market Location
Taqi-Sarrafon Market Facilities
Taqi-Sarrafon Market Address
City :
Bukhara
Country :
Uzbekistan