Shopping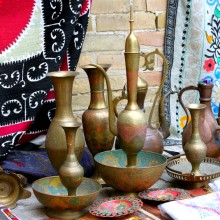 Your guide to shopping in Bukhara, including top and secret places to shop for souvenirs and national clothes, street markets and trade domes in Bukhara. 
There are large oriental bazaars in Bukhara's old town that all offer a wide variety of shopping experience in Bukhara, from jewellery and copper- and metalware to beautiful carpets, cotton fabrics, ceramics and carved wood items. In this page you will find best shopping places in Bukhara, covered bazaars, and markets in Bukhara.



Bukhara's covered bazaars and trade domes
The highlights of a shopping in Bukhara are the four remaining covered bazaars, also called as trade domes of Bukhara, that give a fascinating glimpse into commerce in the city from old times. The intersections of main streets of medieval Bukhara served a purpose of trade, that caused a construction there of notable domed structures – taq(dome) and tim(covered market). Nowadays, these bazaars remain important shopping places in Bukhara, where you can find many souvenir shops. Your choice is unlimited. Each bazaar is covered with numerous domes and holds its unique name. Taqi-Zargaron (dome of jewellers), Taqi-Sarrafon (dome of moneychangers) and Taqi-Telpakfurushon (dome of headwear sellers) are three covered bazaars survived till today.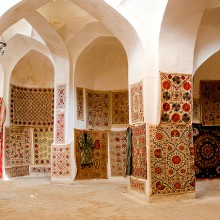 Tim-Abdullakhan Bazaar
A roof closed Tim Abdullah Khan bazaar in Bukhara is a shopping place for carpets and lovely and big suzanas near Poi Kalon Ensemble.
Handicrafts & art in Bukhara
Arts and crafts shopping in Bukhara features an array of exotic carpets, exquisitely patterned textiles, fashionable skull caps and items with intricate ceramic designs.

| | |
| --- | --- |
| Nughai Caravanserai in Bukhara. This attractive looking caravanserai next to the Taqi-Sarrafon houses a number of handicraft and souvenir shops. | In Bukhara Artisan Development Center you'll find a wide range of handicrafts, jewellery boxes, silk-embroidered tapestries and much more. |
Uzbekistan is a heavenly country where grow delicious, incredibly tasty, naturally fresh fruits, vegetables, and herbs and spices. In every place of the country, mainly in city centers, you will find small or big, clean or overcrowded, but full of fruits and vegetables farmers' bazaars.  So wherever you are in the country, try to visit the main Farmer's Market to shop or, at least, to taste fruits and vegetables, that are delicious, incredibly cheap and hard to resist.