Nughai Caravanserai
About Nughai Caravanserai
Welcome to Nughai Caravanserai in Bukhara. Here you will find information, view photos and read tourist reviews of Nughai Caravanserai in Bukhara.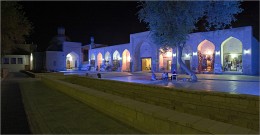 Caravanserais are located in the cities, trade roads and small settlements of the Central Asian region for many centuries served as a temporary abode for travelers and merchant caravans . While caravanserais outside the cities were just a shelter for caravans, those in the city were the prototype of a modern hotel complex.
Nughai Caravanserai is located next to the Taqi-Sarrafon Bazaar in Bukhara. The caravanserai was built in the 16th century during the reign of Khan Muhammad Rahimbiy. One-storey building contains 45 hujras (rooms), not counting rooms for servants and several kitchens. The caravanserai could accommodate more than thirty vendors at the same time.  The traders had never traveled on trade alone and they were accompanied by many servants. The caravanserai had the opportunity, without any obstacles to accommodate such a huge number of guests. Here, travelers and traders received full board: food, shelter, protection. Nughai Caravanserai may be also called as the medieval trading house. In particular, the traders brought Chinese, Indian fabrics and silk and the tailors made and sold ready gowns and robes. Along with this, merchants realized the tea and textiles from Iran, made musical instruments and sold various items of everyday life and culture. Today, this architectural monument, like many attractions in Bukhara, listed as a UNESCO World Heritage Site and is taken under state protection. Every day the site is visited by hundreds of tourists and guests of Bukhara. This attractive looking caravanserai houses a number of handicraft and souvenir shops. There was a particularly good selection of smaller suzanni including wall-hangings and cushion covers, and of small rugs.
Nughai Caravanserai Location
Nughai Caravanserai Facilities
Nughai Caravanserai Address