Nodir Devonbegi Khonaqo
About Nodir Devonbegi Khonaqo
Welcome to Nodir Devonbegi Khonaqo in Bukhara. Here you will find information, view photos and read tourist reviews of Nodir Devonbegi Khonaqo in Bukhara.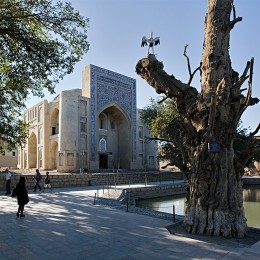 Museum
Nodir Devonbegi Khonaqo, located in the  Lyab-i Hauz ensemble, exhibits and sell modern works of art by folk craftsmen and Bukharan artists of the 20th century.The exhibition includes products made by contemporary Bukharan jewelers, woodworkers, miniature-painters, Gijduvan ceramists, coppersmiths, and silk and gold embroiderers.
Khonaqo is a type of a hostel widely spread in the Muslim east. It includes a mosque and living rooms that mainly sheltered dervishes in the past.
Nodir Devonbegi Khonaqo Location
Nodir Devonbegi Khonaqo Facilities
Nodir Devonbegi Khonaqo Address