Eating Out
The best food and drink in Bukhara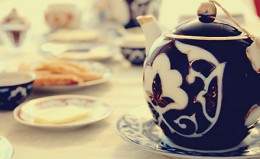 Your guide to eating out in Bukhara. Be it traditoinal cuisine, european dishes or themed restaurants, find the best Bukhara restaurants.
Eating out in Bukhara? From cheap restaurants to luxury dining, afternoon tea to Sunday roast, read about the best Bukhara restaurants here.
Best places to dine out in Bukhara
Nodir Devonbegi Madrassah
Description About Welcome to in Bukhara. Here you will find information, view photos and read tourist reviews of in Bukhara. Nodir Devonbegi Madrassah in Bukhara Restaurant This restaurant is located in the courtyard of the Nodir devon-Beghi madrassah. It offers delicious national dishes such [...]
It is an Uzbek custom to dine at home among the family members. Thus locals are used to visit restaurants occasionally and only to celebrate special events. However, dining at restaurants are getting more and more that usual. This is explained by the opening of variety restaurants in Bukhara that serve different menus at convenient prices.
You can find in Bukhara restaurants of every kind from top quality art-restaurants located to middle-size restaurants for everyday dining, from national art restaurants to local kebab houses.