Bolo Hauz – the Emir's Mosque
About Bolo Hauz - the Emir's Mosque
Welcome to Bolo Hauz - the Emir's Mosque in Bukhara. Here you will find information, view photos and read tourist reviews of Bolo Hauz - the Emir's Mosque in Bukhara.
Bolo-Hauz Mosque in Bukhara
Bolo-Hauz Mosque is the 17th century mosque, which was a place of prayer for the Emirs and their entourage. Bolo-Hauz Mosque is the only preserved monument in Registan Square that includes: multi-column aivan, domed mosque, minaret and a small pool.
Bolo-Hauz Mosque is the only surviving monument in Registan Square, which includes a mosque, minaret and a pool. The pool is the oldest part of the ensemble and is one of the few remaining in the ancient city; for the honor of this pool the mosque is called Bolo-Hauz (children's pool).  In the water of the pond one can see a reflection of the colorfully painted ayvan – a gallery with colonnade – and of the minaret.
The Mosque was built in 1712 for the mother of Ashtarkhanid ruler Abul Fayud Khan (1711-47). Another version states that the Emir Shakhmurad (1785-1800) built it for public prayers, because he liked to be closer to his people.  Although the mosque was built as a royal chapel, it has become a significant civic monument as a consequence of its eminent site near the famed Registan Square.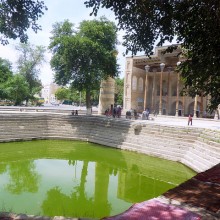 Later, Bukhara's last Emir Sayyid Alim Khan (1910-20) ordered to build a richly decorated entry 'aywan' (terrace) to the mosque's eastern façade during a general reconstruction of the area in 1914-17. In 1917, famed local master craftsman, Shirin Muradov built a small minaret in front of the mosque.
Also known as the Forty Pillar Mosque, this is where the Emir would stride out of a Friday from his residence in the nearby Registan for the noon prayers. Its slender, elegantly carved wooden pillars hold up a beautifully restored painted coffered ceiling. On Fridays once again the faithful come here to pray, and there are often so many that they spill out of the mosque onto the platform near the reflecting pool.
Bolo Hauz - the Emir's Mosque Location
Bolo Hauz – the Emir's Mosque Facilities
Bolo Hauz – the Emir's Mosque Address
City :
Bukhara
Country :
Uzbekistan