Andijan
Your complete guide to places to go in Andijan including Andijan's top sightseeing tips, restaurants, pubs and bars, hints on shopping in Andijan, it's attractions, sports, parks and more.
Must-see attractions in Andijan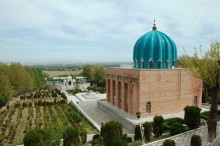 Bobur Memorial Park
Seven kilometres (four miles) southeast of Andijan is this park, opened in 1993 to celebrate the arrival of earth brought from Babur's Kabul grave. Entombed in marble, the earth is the centrepiece of a large garden spread over a hillside Babur was fond of visiting.