Uzbekistan's culture presented in Dubai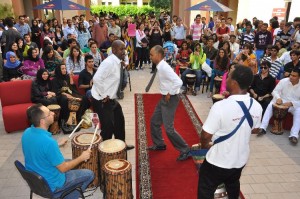 A unique exhibition of oriental calligraphy, miniature and traditional art of Uzbekistan is taking place in Dubai, largest city of the United Arab Emirates.
The project has been organized by Fund Forum in cooperation with Dubai Culture & Arts Authority at the support of Dubai and the UAE mission in Uzbekistan. The exhibition presented ancient manuscripts, museum exhibits, traditional applied art samples of Uzbekistan.
The exhibition consists of three sections, which present ancient manuscripts of Oriental Institute, Uzbekistan Muslims Board and private collections, museum exhibits, as well as modern works of Uzbek masters. Many of the exhibits were shown abroad for the first time abroad, Fund Forum said.
A presentation of publication "Examples of oriental calligraphy and miniatures", published by Fund Forum, attracted large interest.
A copy of Osman Quran took the central place in the exhibition. It is one of four copies of Qurans, which was written by order of Caliph Osman.
The second section presented rare goods and it was dedicated to historic costumes, which belong to various periods of history. The exhibition also included works of modern Uzbek masters.
The event also included cultural programme, which presented Uzbek national music and dances.