Uzbekistan Railways Timetable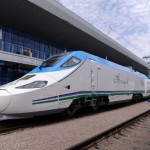 How travelers can get from one city to another? By plane – the fastest way, but it is more expensive than all others and you can enjoy the gradually changing surrounding world and is more suitable for business, not for tourists. Travelling by car or bus – cheap enough for the way you can enjoy nature and the towns, but traveling long distances is very tedious. Trains also combine the opportunity to explore the road, comfort, and saving money while traveling on high-speed trains for short distances, you can save time and get to a place with comfort.
Today, the State Joint Stock Railway Company "Uzbekistan Railways" is one of the economic production complex providing transportation rail service to the national economy and the population of the Republic of Uzbekistan.
The total length of the railway network is more than 6020 km. The average density of railways in Uzbekistan is 13.5 km per 1,000 sq km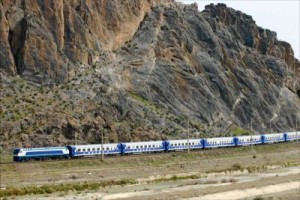 area of ​​the country, about 15% of rail roads are electrified. Uzbekistan Railways got its strong development in the form of new lines and bridges, high-speed train lines "Afrosiab" comfortable and fast trains "Nasar," "Shark". A special place in the revival of the historic Silk Road (TRACECA transport corridor), which is the shortest and more economical route from Asia to Europe, belongs to the Republic of Uzbekistan and its railways. Railway transport plays an important role in the economic relations with neighboring countries. "Uzbekistan Temir Yollari" has bilateral agreements in the field of rail transport with CIS and other foreign countries.
Railway Station is a "face" of railway, it shows the infrastructural objects development of any region. The infrastructure of "UZJELDORPASS" includes 30 major stations. For 6 years the stations of such cities as Namangan, Margilan, Nukus, Karshi, Termez, Khavast, Tashkent were repaired. In late 2005, a full renovation of the Tashkent Central railway station was completed. Today it is a major transportation hub, engaged in transporting passengers on the regional and international destinations. From Central station trains leave to Samarkand, Bukhara, Khiva and other cities. Trains to different cities of Uzbekistan depart from "Yujniy" railway station.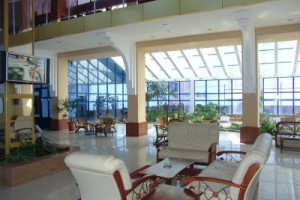 There are additional services at SJSRC "Uzbekiston Temir Yollari" stations: ticket office, recreation room, storage, post office, internet cafe, comfort room, storage compartment, services trade, services, studio, porter, parking , photocopy, hairdresser, etc. Since 2011, hotel in the Central Station of Tashkent is operating. The hotel has 1 VIP, 1 semi VIP, 9 suites and 5 standard rooms.
                                           AFROSIAB, NASAF AND SHARQ TIMETABLE
 AFROSIOB

SHARQ

NASAF

SPECIAL TOURIST TRAIN

TRAIN TYPE

High-speed, comfortable

Comfortable, fast train

Comfortable, fast train

Comfortable,

 fast train

YOM

2011

2006

2007

2011

DESTINATION

Tashkent-Samarkand-Tashkent

Tashkent-Bukhara

Tashkent-Karshi-Tashkent

Uzbekistan

CARRIAGE CATEGORY

VIP, business and economy class

Sleeping car, 1st, 2nd class

Sleeping car, 1st, 2nd class

Lux (shower,ТV)

TRAVEL TIME

2h 15 min

6h 30 min

5h 30 min

by agreement

DAYS OF WEEK

Everyday

Everyday

Everyday except Monday

10-15 days

 DEPARTURE TIME

From Tashkent on Weekdays at 8:00, on Weekends at 07:00.From Samarkand on Weekdays at 17:00, on Weekends at 18:00

From Tashkent at 8:30

From Bukhara at 8:05

From Tashkent at 8:05

From Karshi at 16:40

STOPOVER

NO

Gulistan, Jizzak, Samarkand, Navoi

Gulistan, Jizzak, Samarkand,

Tashkent-Samarkand-Bukhara-Urgench

NOTE

All high-speed trains run only daytime

Tourist train runs on a specially developed schedule
Those wishing to travel by train can book tickets online. The official web-site of the organization is www.uzrailpass.uz.Click here to get more information about Afrosiob train http://goo.gl/GuPv9
Information Service: +99871 299-72-16, +99871 299-7627, +99871299-76-40 or 1005