Uzbek textiles-Ikat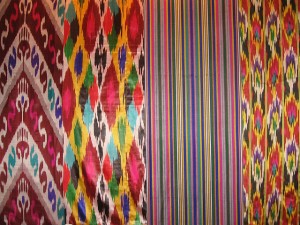 The tradition of making fabrics originated in Uzbekistan since ancient times. Pieces of silk fabric were found in North Bactria (II-III centuries BC), is proof of weaving and dyeing of fabrics many millennia ago. Bukhara, Namangan, Margilan have always been centers of weaving. Since ancient times, due to the complexity and length of ikat production, fabric was available only to select circle. "Ikat" symbolized prosperity, wealth and power. The word "ikat" comes from Indonesian verb «mengikat», which means "to connect, entwine all around." It is difficult technique executed entirely by hand weaving, that is tying bundles of threads to phase dyeing them in certain colors.
Uzbek ikat is different in that figure is applied only to the warp, weft remains monochrome. In Uzbekistan, a technique called abrband that means – tied  cloud, and the tissue obtained in this way is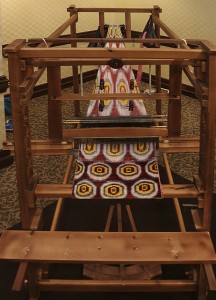 called abr. Tissue, in the technique "ikat" are blended (grosgrain), where the wefts are made ​​of cotton threads, they are called alocha, adras, bekasab etc. There are also fabrics of pure silk and are named alocha, satin, shoyi.  Pure silk fabrics are ornamented by the same technique, dressing base or one-color woven in pinstripe or a cage, and sometimes so that the base is made of strands of the same color, and wefts from another, so tissue receives beautiful and sophisticated color ebb.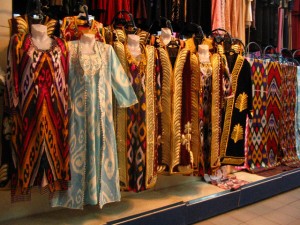 In Marghilan lives a whole dynasty of weavers, where the chief master of abrbandom was Turgunbai Mirzaahmedov. Fabrics woven by him are truly the best examples of national Uzbek fabrics. This is the first folk artist of Uzbekistan, which is certified by UNESCO for his contribution to the preservation and development of traditional crafts. Rasul Mirzaahmedov (Turgunbay Mirzaakhmedov's son) in the late 90's started the rehabilitation of traditional unique type of fabric called "Ali-bakhmal" ceased to produce a century ago.  This is a special type of "ikat" used only for holiday's expensive clothes. This silk velvet, plaid or divorce, with the effect of "acting" and "receding" colors, which manufacturing process is very complex and time consuming.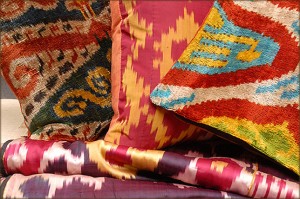 Due to the unusual properties of these versatile fabric keeps cool in the summer and  heat in the winter. From shoyi and adras one can sew blouses, skirts, dresses, evening dresses and even coats, raincoats, using backing material from the same group of tissues. Natural abr fabrics can also be used for the production of luxury accessories – scarves, shoes, bags and hats. Bekasab is suitable for decorating the walls, curtains, shades, sewing pillows and ottomans, until the upholstery that gives special value to these man-made things. Ikat is conquered the European market and not once had absolute authority in exhibitions in London, Washington, Paris and Berlin.