2014 FIFA World Cup, Brazil Qualifires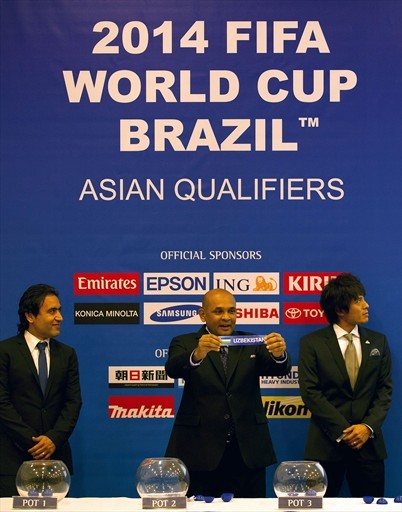 Asia Group – "A" fixtures
A little over a week after Asia's third qualifying round came to a close, the ten qualified teams learned the obstacles they have to overcome to seal one of the continent's four automatic spots at the 2014 FIFA World Cup Brazil™ when the final-round draw took place at AFC House on Friday 9 March.
The ten teams were divided into two groups of five, who will battle against each in a lengthy competition which runs for a whole year between 3 June 2012 and 18 June 2013.
The top two finishers of each section will progress automatically to represent Asia at Brazil 2014, while the two third-placed sides will meet in a two-legged play-off on 6 and 10 September 2013 respectively, with the winners facing the fifth-placed side from South America in a two-legged play-off for a place at the finals.
Final round draw results
Group A: Korea Republic, Iran, Uzbekistan, Qatar, Lebanon
Group B: Australia, Iraq, Jordan, Oman, Japan
Date Venue Matches Of Group -A
03/06/12 TBA Uzbekistan – Iran
03/06/12 TBA Lebanon – Qatar
08/06/12 TBA Qatar – Korea Republic
08/06/12 TBA Lebanon – Uzbekistan
12/06/12 TBA Iran – Qatar
12/06/12 TBA Korea Republic – Lebanon
11/09/12 TBA Uzbekistan – Korea Republic
11/09/12 TBA Lebanon – Iran
16/10/12 TBA Iran – Korea Republic
16/10/12 TBA Qatar – Uzbekistan
14/11/12 TBA Iran – Uzbekistan
14/11/12 TBA Qatar – Lebanon
26/03/13 TBA Uzbekistan – Lebanon
26/03/13 TBA Korea Republic – Qatar
04/06/13 TBA Qatar – Iran
04/06/13 TBA Lebanon – Korea Republic
11/06/13 TBA Iran – Lebanon
11/06/13 TBA Korea Republic – Uzbekistan
18/06/13 TBA Korea Republic – Iran
18/06/13 TBA Uzbekistan – Qatar